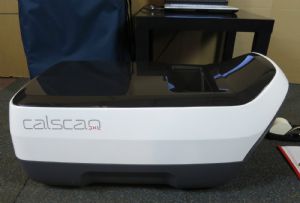 Overview
A heel spur is a hooked bony growth protruding from the calcaneus or heel bone. It often occurs alongside plantar fasciitis, and as such the two conditions are often confused, however they are not the same.
Causes
One frequent cause of heel spurs is an abnormal motion and mal-alignment of the foot called pronation. For the foot to function properly, a certain degree of pronation is required. This motion is defined as an inward action of the foot, with dropping of the inside arch as one plants the heel and advances the weight distribution to the toes during walking. When foot pronation becomes extreme from the foot turning in and dropping beyond the normal limit, a condition known as excessive pronation creates a mechanical problem in the foot. In some cases the sole or bottom of the foot flattens and becomes unstable because of this excess pronation, especially during critical times of walking and athletic activities. The portion of the plantar fascia attached into the heel bone or calcaneous begins to stretch and pull away from the heel bone.
Symptoms
Symptoms may be similar to those of plantar fasciitis and include pain and tenderness at the base of the heel, pain on weight bearing and in severe cases difficulty walking. The main diagnosis of a heel spur is made by X-ray where a bony growth on the heel can be seen. A heel spur can occur without any symptoms at all and the athlete would never know they have the bony growth on the heel. Likewise, Plantar fasciitis can occur without the bone growth present.
Diagnosis
Heel spurs and plantar fasciitis is usually diagnosed by your physiotherapist or sports doctor based on your symptoms, history and clinical examination. After confirming your heel spur or plantar fasciitis they will investigate WHY you are likely to be predisposed to heel spurs and develop a treatment plan to decrease your chance of future bouts. X-rays will show calcification or bone within the plantar fascia or at its insertion into the calcaneus. This is known as a calcaneal or heel spur. Ultrasound scans and MRI are used to identify any plantar fasciitis tears, inflammation or calcification. Pathology tests may identify spondyloarthritis, which can cause symptoms similar to plantar fasciitis.
Non Surgical Treatment
Exercise. If you think your pain is exercise-related, change your exercise routine, environment, or foot-ware, and emphasize movements and/or body parts that do not cause pain. Mind/Body. Occasionally foot pain can be related to stress. The body may respond with generalized tension that contributes to pain in many areas, including the feet. Hypnosis and guided imagery are worth exploring if an anatomical problem is not apparent. Supplements. Natural anti-inflammatories can be just as effective as ibuprofen or other over-the-counter pain relievers with fewer side effects. Try one of the following. Ginger (Zingiber officinale) standardized to 5-6% gingerols and 6% shogoals, take one to two 500 mg tablets three to four times daily. Turmeric (Curcuma longa) standardized to 95% curcuminoids, take 400-600 mg three times daily. Also, be sure that you're wearing well-fitting shoes, the proper shoes for each activity, and that you buy new foot-ware as soon as you notice signs of wear. You can also take the pressure off your heel with a donut-shaped heel cushion or a heel-raising pad placed in your shoe. Acupuncture can also relieve the pain, as can for some sufferers, magnetic shoe inserts, although the evidence behind their effectiveness is not conclusive. Osteopathic or chiropractic manipulation can help with soft tissue pain in and around the feet.
Surgical Treatment
Almost 90% of the people suffering from heel spur get better with nonsurgical treatments. However, if the conservative treatments do not help you and you still have pain even after 9 to 12 months, your doctor may advise surgery for treating heel spur. The surgery helps in reducing the pain and improving your mobility. Some of the surgical techniques used by doctors are release of the plantar fascia. Removal of a spur. Before the surgery, the doctor will go for some pre-surgical tests and exams. After the operation, you will need to follow some specific recommendations which may include elevation of the foot, waiting time only after which you can put weight on the foot etc.
Prevention
A variety of steps can be taken to avoid heel pain and accompanying afflictions. Wear shoes that fit well-front, back, and sides-and have shock-absorbent soles, rigid shanks, and supportive heel counters. Wear the proper shoes for each activity. Do not wear shoes with excessive wear on heels or soles. Prepare properly before exercising. Warm up and do stretching exercises before and after running. Pace yourself when you participate in athletic activities. Don't underestimate your body's need for rest and good nutrition. If obese, lose weight.